4th Album – I Got A Boy
Release Date: January 2, 2013
Label: SM Entertainment
Catalogue #:
Remarks:
– Album size: 50x196x38mm
– Album weight: 310g
– There will be 10 different covers; 9 with individual members and 1 group. Covers will be shipped randomly but some shops offer selection.
– Because of production reason, there will be no poster for this album. S.M. announced that group posters will be given.
– Poster size: 545x394mm
– Each album will contain a 40-page photobook. Each cover has a different photobook, as well as a different logo.
CD Tracks:
1. I Got a Boy
2. Dancing Queen
3. Baby Maybe
4. 말해봐
5. Promise
6. Express 999
7. 유리아이*
8. Look at Me
9. XYZ
10. 낭만길
*Track 7, 유리아이 will be Taeyeon and Tiffany's duet.
Price:
Recommended Retail Price (RRP): ₩20,000
[Online]
All the shops listed below ship the covers randomly, unless otherwise stated.
DVDHeaven: USD$14.34 (without poster) // USD$15.44 (with folded poster) // USD$17.54 (with tubed poster)
YesAsia: USD$19.99
GMarket* (Synnara): ₩13,900 // ₩16,300
Applemusic: ₩16,300
Leesmusic: ₩16,300
Synnara*: ₩16,300
KyoboBook*: ₩16,300
Interpark Book: ₩16,300
CDJapan: ¥1,677 (Tax incl.)
Tower Records: ¥1,683
GMarket* (This seller offers a 10-album package, 9 individual covers + 1 group cover): ₩138,000
* = SoshiCatalogue guides
Photos of actual albums: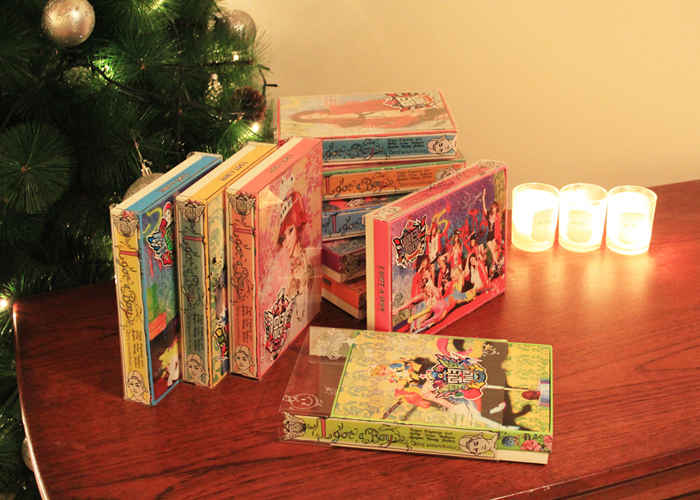 Teaser Photos:
Music Video:
Music Video Teaser:
Comeback Greetings: 
D-10 – Taeyeon
D-9 – Yuri
D-8 – Sunny
D-7 – Tiffany
D-6 – Seohyun
D-5 – Yoona
D-4 – Hyoyeon
Source: SM Entertainment, leesmusic, Yurui912
Image Credits: SM Entertainment, leesmusic
Video Credits: NAVER, Soshified
Some Rights Reserved. This work is licensed under
http://creativecommons.org/licenses/by-nc-sa/3.0/